Low profile floor scale platforms for stationery weighing of loose cargo and pallets
Atrax low profile floor scale platforms ('pancake scales') are suited to stationary weighing of loose cargo and pallets, and are compatible with all Atrax Digital Weight Indicators.
The low profile design with height adjustable feet allows for use above ground, or in a shallow pit. Low gradient ramps can be fitted on any or all four sides and can accept loading by tugs or dollies.
The heavy duty welded steel platforms can be finished with durable epoxy paint or hot dip galvanised. The platform surface uses a safety non-skid tread plate as standard, with an optional smooth plate available.
Four Atrax OIML and NTEP approved high precision shear beam load cells fitted to adjustable self-aligning feet guarantee accurate, repeatable and reliable weighing. Custom sizes and capacities are available, the more common standard sizes are listed next to the image and below.
| Platform Size | Capacity |
| --- | --- |
| 1000 x 1000mm | Up to 3 tonne |
| 1200 x 1200mm | Up to 5 tonne |
| 1500 x 1500mm | Up to 5 tonne |
| 1800 x 1800mm | Up to 5 tonne |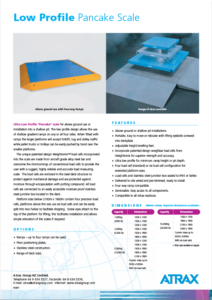 For more information about the Atrax Low Profile Platform Scale ('Pancake Scale'), download the data sheet below.
Get in touch
Want to know more about Atrax Low Profile Floor Scale Platforms for your organisation? Get in touch with us today.