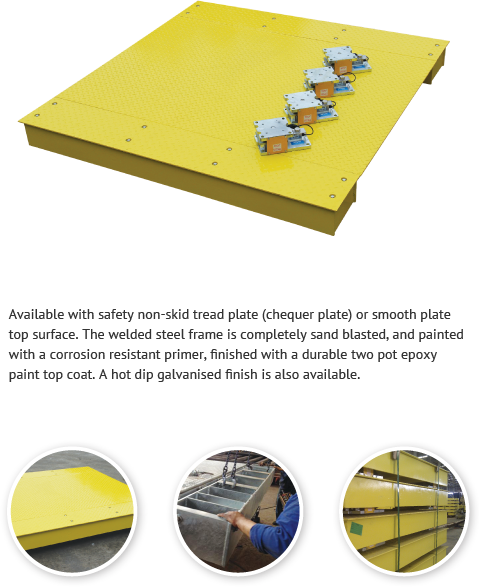 Heavy duty cargo scale decks for accurate and reliable weighing
Heavy duty cargo platform scales ('Pit Scales') designed for rigorous use and the heavy weights of airport cargo applications where accuracy and reliable weighing are essential.
Heavy duty cargo scale decks are suitable for drive-over use with forklifts, airport tugs and dollies or similar mobile equipment. They are typically mounted in shallow pits to be flush with floor but are equally suited to above ground installations.
The platform structure is a modular design optimised to facilitate easy shipping and local delivery to site.
Heavy duty fabricated beams run the full width of the scale and house the self- aligning load cell assemblies. These beams simply and easily bolt to the deck modules during installation on site.
The deck modules are computer designed for maximum torsional rigidity and effective load distribution to guarantee scale accuracy and extend lifetime operation in demanding air cargo facilities. Fully welded trapezoidal shaped beams run the full length of the deck modules, these are fully enclosed longitudinally between the beams for increased strength.
The platform scale uses the Atrax model SBM-5T shear beam load cell and self- aligning mount assembly as standard, but can also be fitted with Atrax double ended shear beam mount assembly model DSBM-25K for even higher weighing capacities.
Four load cell deck
Width: 2 metres to 3.5 metres
Length: 2.5 metres to 4.5 metres
Height: 220mm
Scale capacity: 6 tonne to 15 tonne max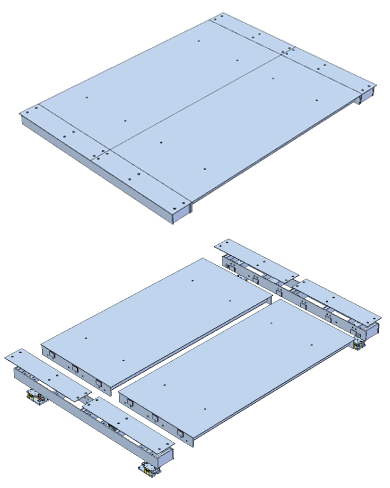 Six load cell deck
Width: 2 metres to 3.5 metres
Length: 4 metres to 9 metres
Height: 220mm
Scale capacity: max 24 tonne (higher with double shear beam mounts)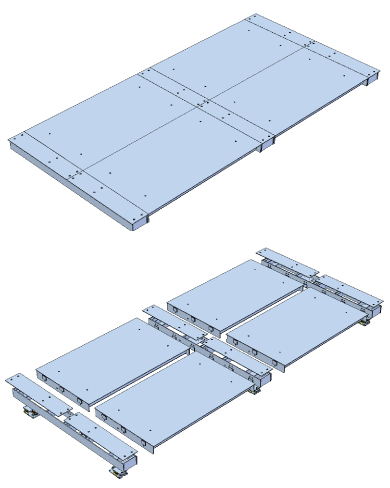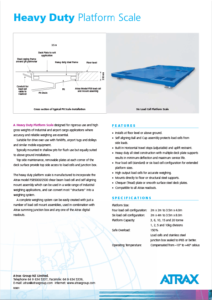 For more information about the technical specifications of the Atrax Heavy Duty Platform Scale, download the data sheet below.
Get in touch
Want to know more about Atrax Heavy Duty Platform Scales for your organisation? Get in touch with us today.