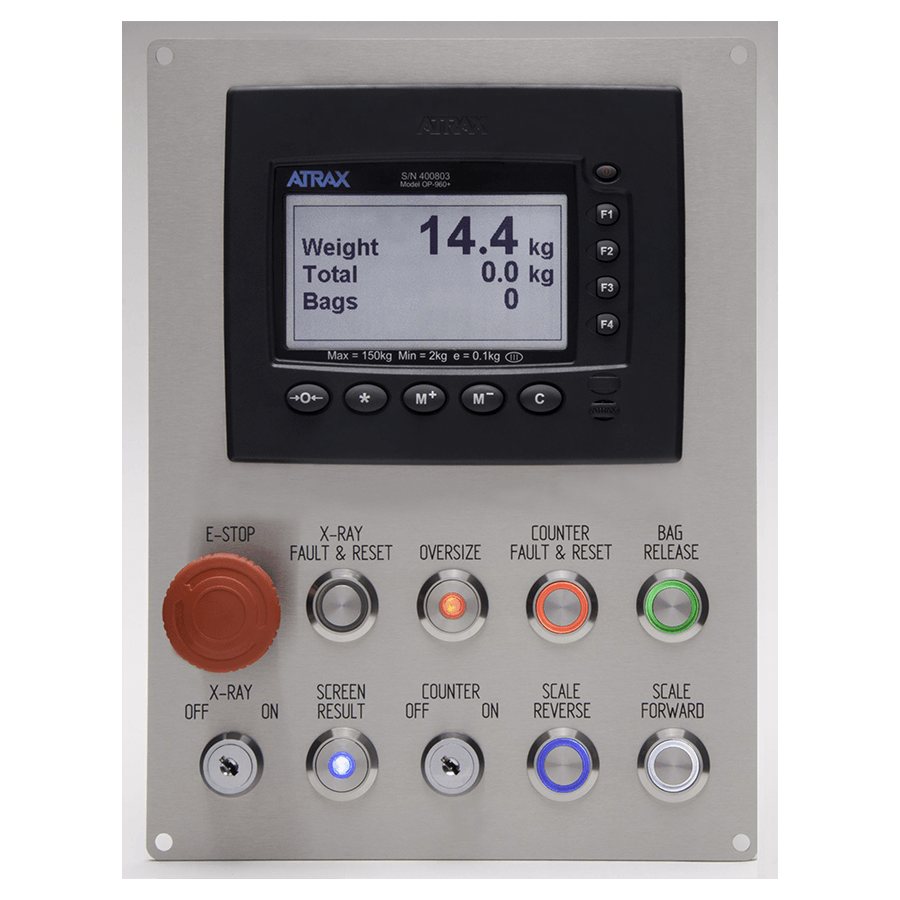 Atrax Extended Operator Panels for the ABS960+ Check-in Conveyor Scales
The Atrax Extended Operator Panel is a functional add-on to the ABS960+ Check-in Conveyor Scales.
This is a stainless steel panel surrounding the operator panel, and which contains controls and a key switch pertaining to check-in agent operation of the check-in conveyor.
Typical components could include:
On-off switch for the check-in station.
Emergency Stop (E-Stop).
Illuminated or non-illuminated push buttons for functions such as belt advance, belt reverse, jam reset, oversize reset, bag release, tub load etc.
The required number of AS-i modules relative to the specified components.
More features
Buttons come in two types, being neat flush-mounted versions or colourful protruding versions.
Other than the E-Stop (which has its own label), each button function is laser engraved into the stainless panel, providing a long-life solution.
AS-i units are modular and neatly potted, saving a great deal of mounting and wiring time, although non AS-i units can also be provided.
The buttons, key switch and E-Stop are pre-wired in a neat configuration at the rear of the panel, with easy on-site connection via the M12 AS-i plug and a 2 pin connector for the hard-wired E-stop.
Extended Operator Panels can be quoted according to the quantity and function types of components required. Depending on the quantity and required component positions, the stainless steel panel size and orientation (portrait or landscape) can be manufactured to suit.
If both scales and Extended Operator Panels are ordered, we mount the scale operator panel into the stainless steel Extended Operator Panel, and wire, test and neatly pack the completed units prior to dispatch.
More information
Want to know more about Atrax Extended Operator Panels for your organisation? Get in touch with us today.