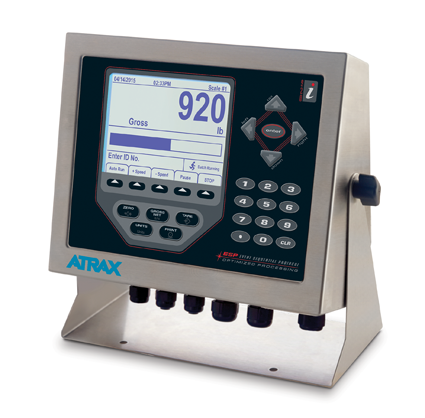 Robust and versatile digital weight indicator for the most demanding weighing applications
The Atrax Model 920i Programmable Digital Weight Indicator incorporates the best features from digital weight indicators, PLCs and computers. Add more robust electronics, a crisp graphical display and programmable soft keys inside an almost indestructible stainless steel enclosure and you have an extremely versatile digital weight indicator unit.
From simple tasks, such as handling dual scale inputs, to more complex programming to calculate centre of gravity, enabling unique operator log-ins, and many other examples, Atrax engineers can programme the Atrax Model 920i Digital Weight Indicator to cater for the most demanding of weighing applications.
For more seamless communication with external devices a USB port is available, and optional TCP/IP Ethernet interface is also available.
Features
Large ( 116.8mm W x 86.4mm H) backlit LCD graphic display
Selectable character sizes up to 30mm high
Multiple configurable operator prompts
Five soft keys with 10 user defined functions
Panel mount available
Multi range
Alibi storage
IP66 stainless steel enclosure
Selectable A/D measurement rate up to 960/second
Two slots for option cards (e.g. TCP/IP)
Power for 16, 350 Ohm load cells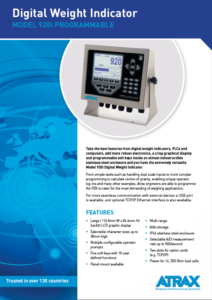 For more information about the technical specifications of this unit, download the brochure below.
Get in touch
Want to know more about the 920i Programmable Digital Weight Indicator unit for your organisation? Get in touch with us today.