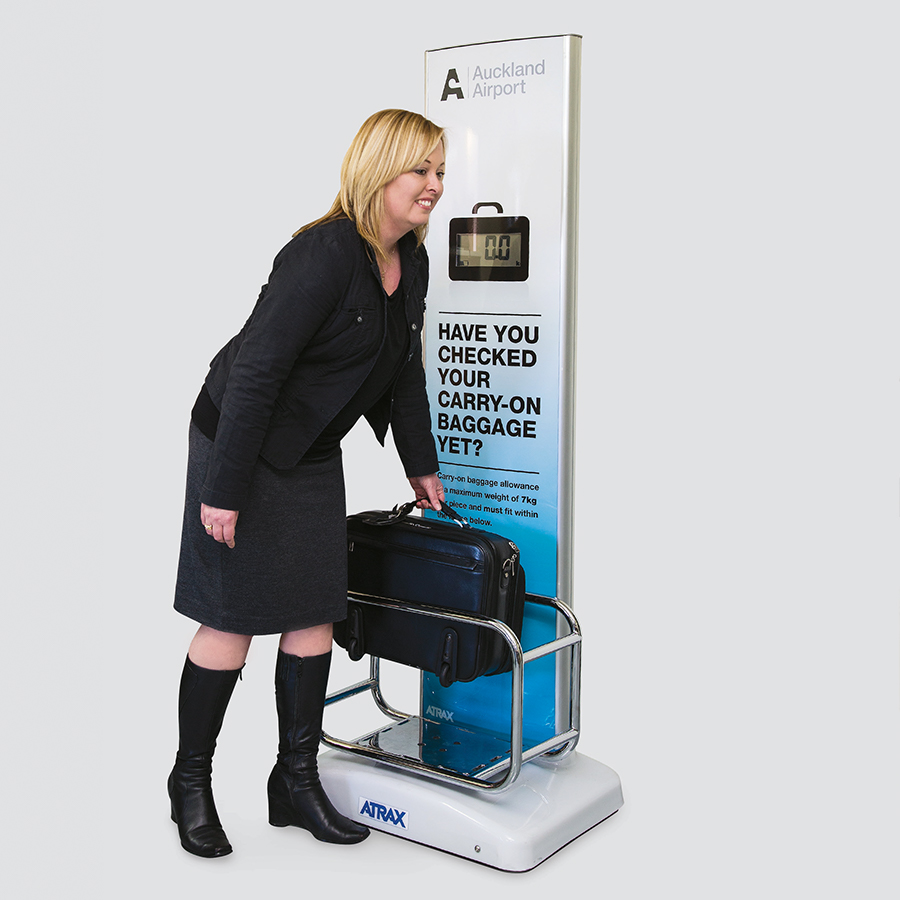 Fast, simple and accurate control of cabin bags
Atrax's Digital Cabin Bag Check Unit means you don't have to waste time with problems caused by oversized cabin baggage. Help passengers get their carry-on size and weight right, with this modern and cost-effective cabin bag dimensioning unit. The stylish, sleek design of this robust unit will enhance airport environments and save airport operations both time and money.
Features
Helps passengers quickly ensure their cabin baggage meets airline requirements prior to check-in.
Eliminates size disputes with its fixed dimension bag cage and a large, easy to read digital display with fast and accurate weighing.
Can be used prior to check-in and at boarding gates to identify non-compliant carry- on bags.
Is battery operated with easily sourced D-cell batteries, meaning no power cables or electrical outlet constraints.
Benefits
Assists with on-time flight departure by reducing problems of passengers boarding with oversize/overweight carry-on bags.
Early detection of non-compliant carry-on baggage allows normal checked baggage process to be used, minimising airport staff rushing bags from departure gate to aircraft hold
The units provide branding opportunities for airports or airlines and also allow for signage to direct passengers to be incorporated.
The "tilt and wheel" feature makes the units easy to move between departure gates (due to changes in passenger queueing layouts), other areas, or storage.
Cost-effective option for airports that takes a proactive approach in enhancing service to airlines.
The stylish and user-friendly unit attracts passengers, encouraging them to check their carry-on bags.
For more information about the technical specifications of the Atrax Digital Cabin Bag Check Unit, download the brochure below.
Get in touch
Want to know more about the Atrax Digital Cabin Bag Check Unit for your organisation? Get in touch with us today.