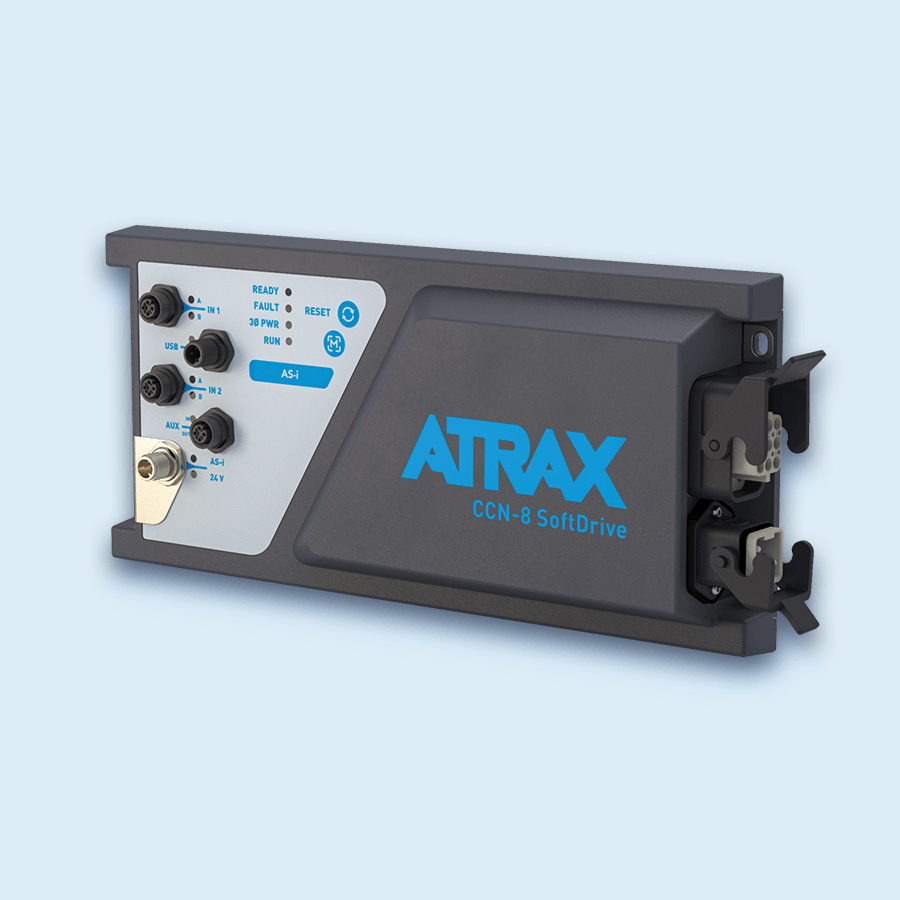 A dedicated soft-start conveyor controller providing a truly 'plug & play' solution
The Atrax CCN-8 SoftDrive Conveyor Control Node is a solid-state, soft start motor control device which allows for check-in conveyors to be completely assembled, wired and tested in the factory prior to shipping to site – resulting in a truly 'plug & play' solution.
With soft start/stop capability, the CCN-8 SoftDrive enables smooth and quiet operation of check-in conveyor motors up to 0.75 kW. All check-in conveyors can be fitted with identical CCN-8 SoftDrives, simplifying system design and purchasing.
At the customer site, it's just plug and play, saving expensive controls engineer commissioning time, and the new design provides an elegant field solution for the control of airport check in conveyors. The CCN-8 SoftDrive is an economical means of control that also provides savings in site installation.
Benefits
Plug & play
Faster, cheaper site installation
Simplifies design & purchasing
Smooth & quiet operation
Technical features overview
The CCN-8 SoftDrive can be used with single direction or reversing conveyors. The unit protects the motor from thermal overload. Only an upstream circuit breaker is required for branch short-circuit protection.
3-phase line monitoring of phase sequence and symmetry. Comprehensive status and fault histories are accessible via USB.
The CCN-8 SoftDrive is housed in a rugged slim-line enclosure made from low-smoke, flame-retardant recyclable plastic which allows it to be fitted within the body or trim of a standard check-in conveyor.
Features
The Atrax CCN-8 SoftDrive exhibits the following features:
Soft-start AC motor control for smooth, quiet operation
Front-panel manual control for convenient belt tracking
Economical distributed control saves space
Available in AS-i and PROFINET variants
Rugged enclosure
Firmware options for local intelligence
Switched brake control
Support for up to 4 sensors (2 external sensor channels mapped via AS-i)
Configurable auxiliary I/O
USB configuration and diagnostic capability
Image gallery
Click on an image to bring up a larger view and scroll through the gallery.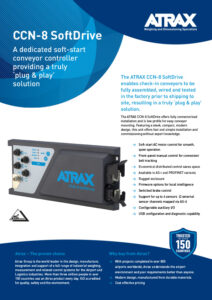 For more information about the technical specifications of the Atrax CCN-8 SoftDrive Control Node, download the brochure below.
Get in touch
Want to know more about the Atrax CCN-8 SoftDrive Conveyor Control Node for your organisation? Get in touch with us today.