LOAD CELL MOUNT ASSEMBLIES
Atrax load cell and mount assemblies may be incorporated into most structures to create a weighing system. A separate rigid structure such as a ball, castor, or roller deck can be placed on top of four or more Atrax mounts to form a weighing platform. The load cell mounts can be installed in a pit (e.g. flush mount floor scale or work station), above ground, on a scissor lift or embedded in moving equipment like a transfer vehicle (TV) or elevating transfer vehicle (ETV).
Horizontal restraints using travel stops and vertical uplift restraint are built in to each mount. For the SBM series, the vertical weighing loads are transferred to the load cell through a double cup and ball arrangement, which eliminates any horizontal side loads and angular movement (tilting or rotating) created by minor deflections in the deck structure.
The DSBM series load cell and mount assembly employs a centre pivoted tension loading system to transfer only vertical weight loads to the weight sensor. Unwanted horizontal and angular loads are nullified by this "unilink" suspension design.
These Atrax load cells and mount assemblies eliminate the need for troublesome check rods, links, expansion assemblies and other unnecessary hardware.
This ensures maximum accuracy of weighing and protects the load cells from damage.
The Atrax load cell and mount assemblies are available in three weight capacity models, SBM-2T, SBM-5T and DSBM-25K for medium, medium heavy and heavy capacity scale systems.

SBM-2T
• Mount accepts Atrax shear beam load cells 500kg, 1,000kg and 2,000kg capacity
• Built in horizontal and uplift travel restraint
• Integrated transportation overload stops for shipping
• Low profile – overall height 97mm
• Four mount system suits scales from 100kg to 5 tonne
SBM-5T
• Mount accepts Atrax shear beam load cell 2.5t, 3t and 5 tonne capacity
• Built in horizontal and uplift travel restraint
• Low profile. Overall height 109mm
• Also available in narrow mount variation to fit between rollers in low height roller decks
• Four mount systems suits scales from 3 to 15 tonne
• Six mount system suitable for 20 tonne scales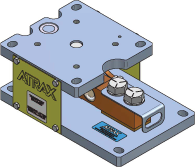 DSBM-25T
Mount accepts Atrax double end shear beam load cell 12.5 tonne (25Klb) Higher capacities by request
Self-aligning suspensions link with built in travel restraint
Overall height 222mm
Four mount system suits scales from 10 to 40 tonne
Six mount system suitable for up to 60 tonne scales