DIGITAL WEIGHT INDICATORS
Digital weight indicators (DWI) are a key to accurate weight display and data transfer to management systems. Modern operations demand robust scales that are fast and easy to use and will maintain high accuracy year in and year out.
Atrax has carefully designed a select range of weight indicators from simple general purpose to fully functional and networked programmable indicators. Atrax indicators are used in low volume small town airports to big volume highly automated cargo airports like Hong Kong, Incheon and Dubai. We have the right weight indicator for your application.

ATRAX 120 DWI
The 120 DWI is an entry level general purpose weight indicator suitable for stand-alone weighing applications including single load cell scales to four load cell platform scales.
• ABS plastic case
• Power for four (350Ω) load cells
• Data communication port for printers or PC
• Five button key pad operation
ATRAX 355 DWI
The 355 DWI is a versatile yet easy to use weight indicator suitable for high use weight only applications. The rugged stainless steel case can be wall or desk mounted using the tilt stand, or supplied with an optional kit for panel mounting.
• Stainless steel IP66 enclosure
• Large LED weight display (20.3mm)
• Power for eight (350Ω) load cells
• Two independent data communication ports
• Two digital inputs (with 8 selectable functions)
• Front panel calibration and configuration
• Consecutive transaction numbering on weight printouts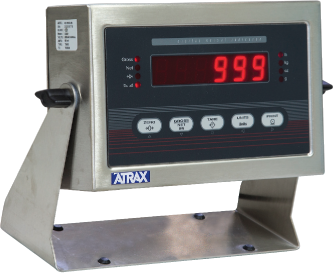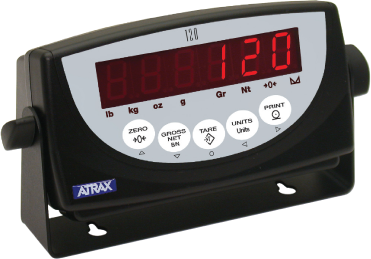 ATRAX 420 DWI
The 420 DWI is a very capable mid-range weight indicator suitable for stand- alone weighing or can be integrated into a larger data collection system with optional LAN data interface cards. 21 button keypad with 0-9 numeric keys for entering tare values and other data. A universal mounting stand or optional panel mount kit is available.
• Stainless steel IP66 enclosure
• Large LED weight display (20.3mm)
• Power for eight (350Ω) load cells
• Two independent full duplex data communication ports
• Programmable ticket formats up to three settings of 300 – character print out
• Two digital inputs (with 8 selectable functions)
• Two digital set point outputs
• Front panel calibration and configuration