ABS960+ Airport Check-in Conveyor Scales
With product in over 130 countries, the Atrax ABS960+ airport baggage scale is a common sight at check-in, with an average of 20 people per second using one of over 30,000 Atrax scales in use world-wide.
The scale units are divided into three main components – scale base, operator display and passenger display. Each component is connected together with a single cable and the displays can be located to suit the check-in counter layout. All connections are plug in so no on site wiring is necessary. A description of each component is given below.
Baggage Scale – General
Typical specifications are as follows but not limited to;
| | |
| --- | --- |
| Capacity | 150kg x 0.1kg adjustable |
| Overload capacity | Up to 500 kg |
| Readouts | Dual display (operator and passenger) |
| | LCD graphics High Resolution Operator Panel |
| | Red LED Passenger Panel |
| Electronics | Single Phase power 110/230VAC at 50/60 hertz |
Scale Base

A typical Atrax scale base is pictured alongside, modified for the dimensions to suit client check-in conveyors. The Atrax baggage scale base is designed to adapt to your baggage handling system, not vice versa. For more than 20 years and around the world, many different types of conveyors have been fitted to the Atrax scale bases. The design of the Atrax scale base coupled with the experience of our designers means that the base will accommodate most sizes of motorised conveyor (provided by others) – essential for flexibility of check-in counter layout and conveyor design.
All Atrax scales use our OIML and NTEP approved high precision load cells to guarantee accuracy, repeatability and reliability.
Displays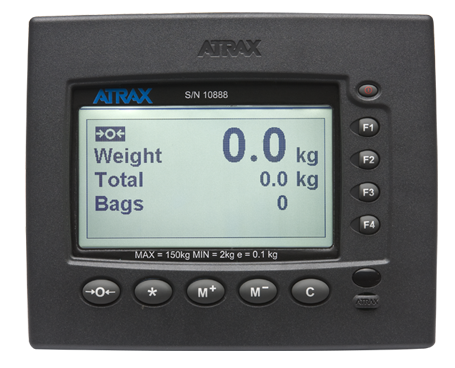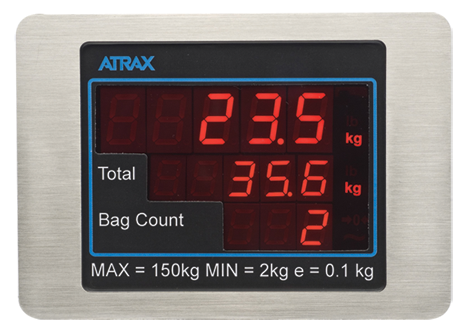 The Atrax scale is provided with two display panels, one for the passenger to view and another for the ticket agent or operator. These displays may be flush mounted to form an integral part of the check-in counter. All display units have clear digital readouts that can be easily seen under airport lighting.
The high-resolution LCD display ensures Chinese characters can be correctly displayed.
The Operator panel is made from rugged ABS material whilst the passenger display panels are finished in stainless steel. This provides a very robust and long lasting surface with the attractive look so necessary for a modern airport. The Operator panel can also be incorporated into a stainless steel extended operator panel to include conveyor controls.
The operator panel is fitted with five "Soft Touch" yet tough Silicone rubber push buttons to control the scale functions. One button is for quickly and simply setting the scale reading to zero, which should only need to be done very occasionally. A further three buttons are for the totalise feature that indicates the cumulative weight of a passenger's luggage, or the total weight of a group's baggage. The final button is programmable and can be used for options such as 'Print' 'Send Data' 'Belt Start' or other user defined functions. Included in the scale electronics are a number of standard features that may be used or disabled. These include:
· An overweight bag signal with the choice of visual indication, audible indication and/or an output signal for external use. (E.g. for inhibiting conveyor induction of an overweight bag)
· A serial communication port for connection to computers or printer.
Installation and Commissioning
The design of the Atrax baggage scale has been optimized for very easy installation and minimum time to install. There are only three cables to install including the mains power lead. Each cable has a plug fitting on both ends and can only plug in one way, therefore eliminating incorrect hook-up.
Once the displays and scale base have been set in place, they are simply plugged together with the cables supplied. The scale can then be turned on and its calibration checked by placing a known weight on the scale. Any calibration adjustment found necessary can easily be made via the front panel pushbuttons in only a few minutes.