Uncovering hidden profit in your business just got easier, with Atrax's Scanatrax pallet and cargo dimensioning system now able to be installed and calibrated by local Atrax partners.
Previously, installing the Scanatrax dimensioning system required Atrax staff to attend the customer site. When the COVID pandemic made business travel difficult, Atrax engineers redesigned the installation and calibration process to enable local Atrax-appointed partners to easily manage it themselves. It's now simple enough to be done by any competent technician, says Ian Meyle, Design Engineer.
"Our local partners now install and calibrate the Scanatrax dimensioning system at the customer site, making installation fast and simple for the customer," he says.
Each Scanatrax unit is pre-tested in the Atrax factory. When it arrives on the customer site it only needs to be bolted into position, the four major components assembled, cables connected and calibrated.
To help ensure correct procedures are followed, Atrax has produced new step-by-step videos to check and guide the installation. An introductory video is followed by twelve short videos of between two and four minutes each. The videos take the Atrax-trained technician through every stage of the installation and calibration process, from bolting the unit into position and plugging in cables, to final calibration and operation.
The new remote installation capability has been successfully demonstrated at a major air cargo hub in the Middle East. Local technicians carried out the install in a short time with no issues.
Atrax customers report revenue increases of around ten percent when they start charging according to actual measured freight volume using the Scanatrax dimensioning system. Removing hand measurement and guesswork adds directly to bottom line profit. The payback period can be a few months – even weeks for some customers.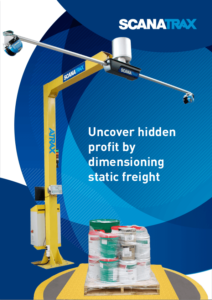 For more information about the technical specifications of Scanatrax, download the brochure below.
Get in touch
Want to know more about the Scanatrax dimensioning system for your organisation? Get in touch with us today.