WORLD LEADERS IN WEIGHING AND DIMENSIONING FOR THE AIRPORT AND LOGISTICS INDUSTRIES
Atrax Group is the world leader in the design, manufacture, integration and support of a full range of industrial weighing, measurement and related control systems for the Airport and Logistics industries.
Established over 35 years ago, we have become truly worldwide specialists in the areas of airport baggage, cargo and express parcel.
Today, our products and systems are installed and utilised in over 800 airport sites across 150 countries.
Our unrivalled quality and capabilities mean that we can be trusted to provide you with fast and accurate measuring equipment that meet technical specifications, Government regulations and industry standards around the world. Our products ensure your compliance, revenue protection and operational safety.
THE MOST ADVANCED RANGE OF CUSTOMER FOCUSED PRODUCTS AND SERVICES
We are renowned for reliable, accurate and cost effective measurement products, designed for ease of use and maintenance, supported by an extensive global network.
Our products used in the airport baggage, cargo and express parcel industries protect our customer's revenue and enhance operational efficiencies. Our collaborative partnership approach ensures on time and successful project outcomes. Our specialist expertise gives our clients the benefits of innovative design solutions and cost effective dedicated high volume manufacturing. Atrax's market proven products are rigorously tested both internally and by independent auditors and have gained approval by regulatory bodies all around the world.
In addition to our comprehensive suite of products and services our research and development teams are always available to solve your challenges and those of tomorrow.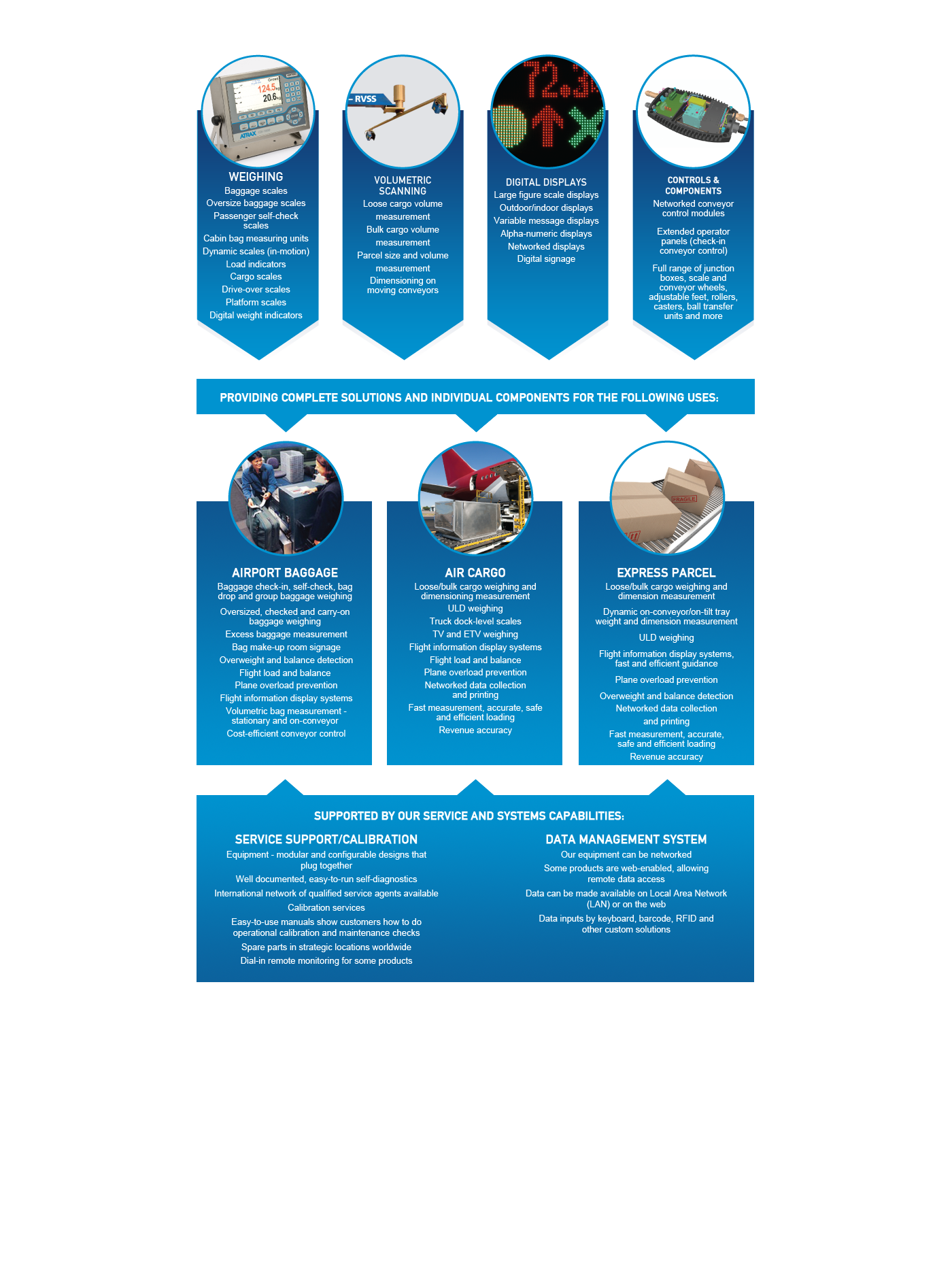 At Atrax we take pride in being internationally competitive and responsive to our customer's needs, focusing our skills and efforts entirely on our specialist field.
We are completely dedicated to the Airport and Logistics industries finding the best and most cost-effective solutions for you, wherever you are in the world.
Our products are engineered to be cost-effective for you through clever design that maximises performance while minimising cost.
We then source globally, getting the best raw materials at optimum prices and manufacturing our products in multiple global locations.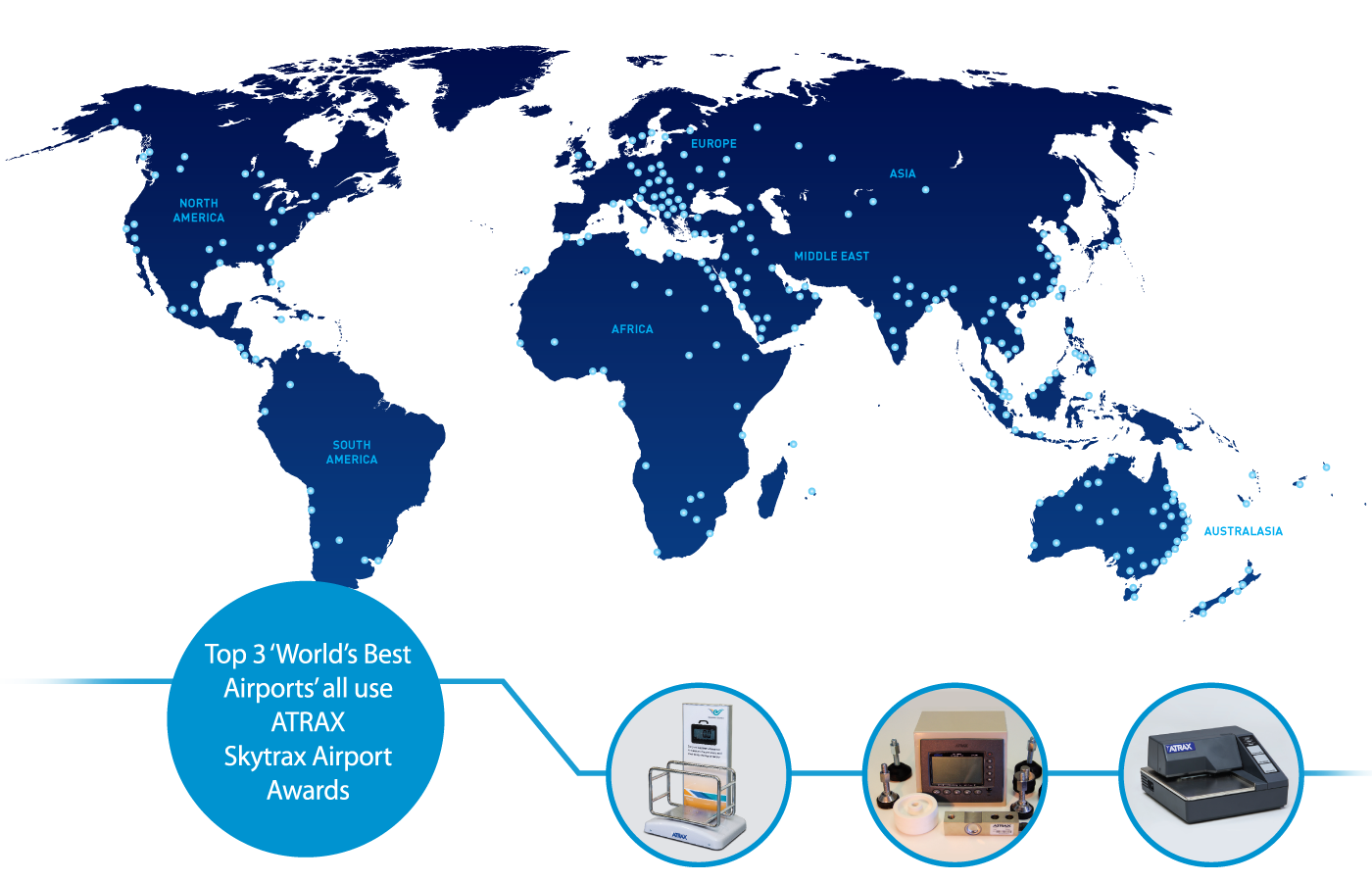 Aviation/Logistics Specialisation. We are solely focused on product quality and innovation for this market.

Technical Skill. Delivering technically superior solutions in modern, well designed products.

High Quality. Everything we produce is manufactured to the highest standards. Our exceptional product reliability is the result of designs that are tested daily around the world.

Cost-Effective Results. We use our global production volumes to maximise value for you.

Support. We are accessible, responsive and knowledgeable. We guarantee our clients an unrivalled level of product support.

Innovation. We bring relevant new products and solutions to market, to serve your business today and tomorrow.

Integration. We incorporate functions such as networked communications and control, that meet your system needs for materials handling and data capture.

Approvals from Government Weights and Measures Departments Worldwide. No company has more international approvals than Atrax.

Wide installed product base. Trusted in 150 countries.
BE COMPLIANT WITH OUR WEIGHING PRODUCTS
Many weighing systems require approvals by local and international authorities. Atrax offers you weighing equipment and accessories with a wide range of global approvals.